Mulch, Stone, Soil & Sand
The Garden Center at Seasonal Services
Local Pick Up / Delivery Available – Call for Details
At Seasonal Services' Garden Center, we offer a wide variety of decorative garden and landscape materials to help protect and nourish your trees, shrubs, plants, and accent features while minimizing maintenance and upkeep. Whether you are installing a professional landscape or hardscape design for a client, adding a protective mulch or stone area to support your vegetable garden, landscape accent, flower bed, backyard firepit, entertaining area, or a private oasis, you will find the highest quality materials at our Garden Center. Get ready to enjoy a fresh new look designed to last!
Most Landscape Materials Available Bagged & In Bulk
Sod, Fertilizer & Grass Seed Available for Contractors and Homeowners
Decorative Sand, Stone & River Rock
Our Garden Center has a nice selection of bagged and bulk decorative gravel, stone, river rock, and sand materials available in all the popular landscaping colors for you to choose from. If you are unsure of which type of material is right for your particular landscape project, our helpful staff can provide information about the various products we carry so you can make the best decision for your application. We are here to answer your questions and help you keep your trees, plants, and shrubs healthy and looking great with minimal maintenance all season long!
Premium Bulk & Bagged Mulch
Attractive Finishing Touch for Your Landscape Projects
We offer premium-grade mulch in attractive natural colors to finish off your flower beds, landscape plantings, and accent features with a touch of class. Choose conveniently bagged mulch or bulk mulch based on your project needs. You can pick up your mulch at our Bunker Hill, WV Garden Center or call for details about delivery to your residence or commercial job site. Please call for current mulch options and availability: (304) 229-2914.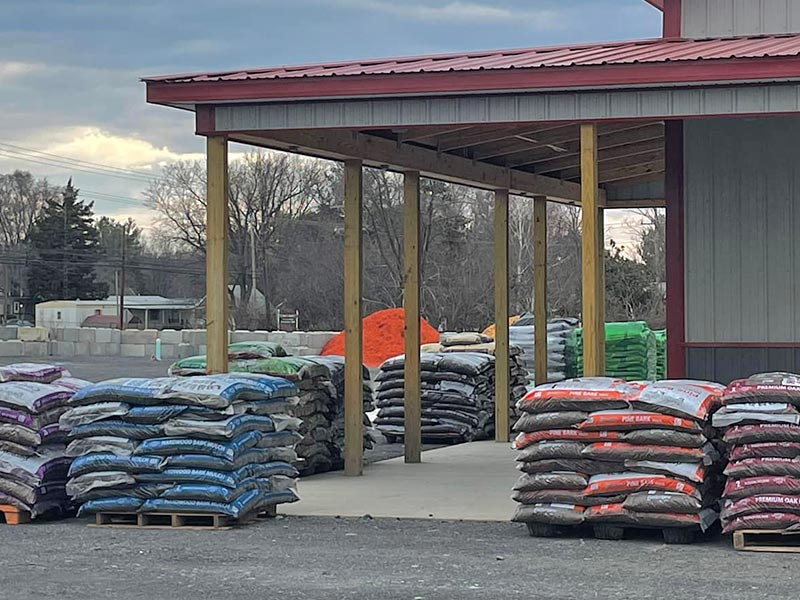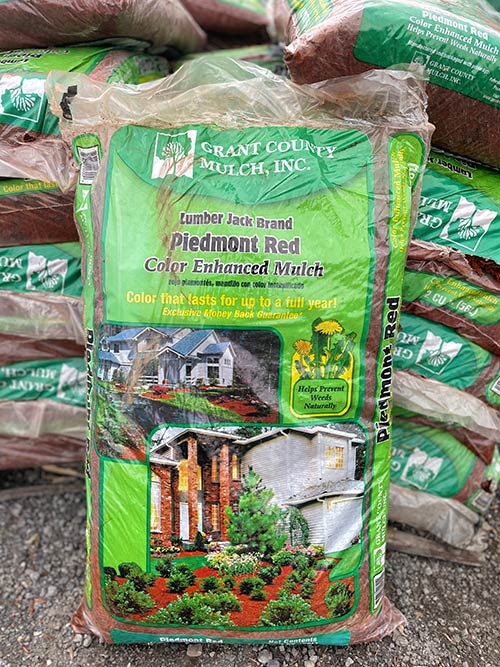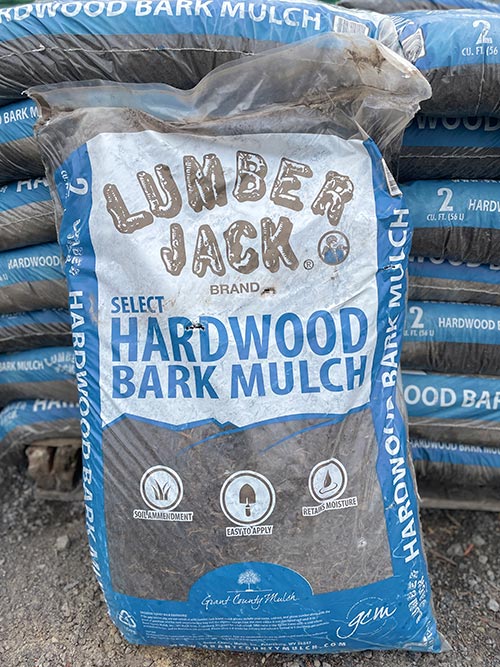 Bagged Hardwood Bark Mulch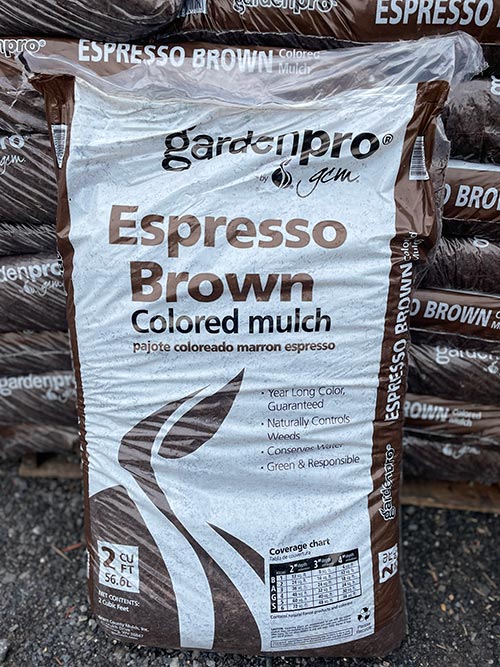 Coast of Maine Organic Potting Soil – Roses & Flowers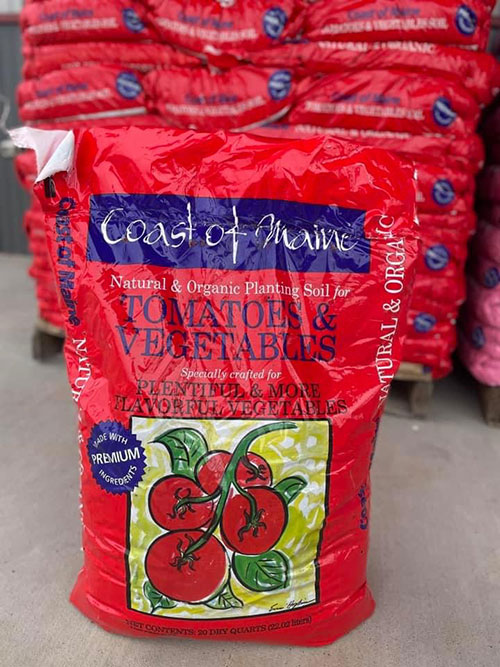 Coast of Maine Organic Potting Soil – Tomatoes & Vegetables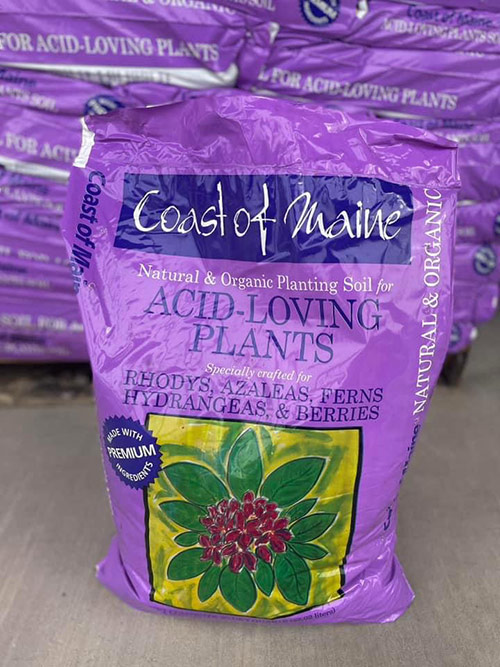 Coast of Maine Organic Potting Soil – Acid-Loving Plants
Mulch is measured in cubic feet. If you are planning to order mulch, you can obtain a rough estimate of the amount you need for your upcoming landscaping project with the following calculation:
Step 1. Determine the area you plan to cover, stake and mark with string, then measure and record the total length and width of the area in feet and inches.
Example:
Area Measurement: 6'5" x 10'2"
Calculate Area in Square Feet: 6.5 x 10.2 = 66.3 sq. ft.
Step 2. Decide how thick you want the depth of your mulch layer to be (in inches).
1" – 0.083 ft.
2" – 0.167 ft.
3" – 0.25 ft.
4" – 0.33 ft.
5" – 0.42 ft.
6" – 0.5 ft.
(Note that 2 – 3" is typically sufficient for most applications, but course mulch and heavy weed suppression may require a depth of 6" or more of mulch)
Example:
Depth of Mulch: 4" mulch layer


Step 3. Multiply the area in square feet from step 1 by the mulch depth in inches obtained above in step 2.
Example:
66.3 sq. ft. x 4 inches
Calculate 66.3 x 4 = 265.2
Step 4. Divide your result from step 3 above by 324, as one cubic yard of mulch will cover 324 square feet, 1 inch deep).
Example:
Calculate Cubic Yards of Mulch Needed: 265.2 divided by 324 = 0.82 cubic yards
In this example, you would need 0.83 cubic yards of mulch, but plan to order up to the nearest whole number. In this case, you would want to order one cubic yard of bulk mulch or the equivalent amount of bagged mulch.
Let Us Help Beautify Your Landscape
Contact the Garden Center at Seasonal Services
Whether you are a first-time homeowner, a veteran of outdoor home improvement projects, or landscaping and groundskeeping professional, our knowledgeable Garden Center staff is ready to assist you every step of the way! We partner with our customers to help them enjoy successful projects with effectiveness and efficiency! Our friendly staff can answer your hardscaping and landscaping questions and can help you select the best mulch, soil, stone, and materials for your application. If you would like to learn more, we are happy to offer useful advice based on decades of in-the-field experience, too.
Skip the guesswork and come see us for all your lawn, garden, and landscaping needs! If you are too short on time to complete your landscape project the way you want, we invite you to learn more about our
professional landscaping and property maintenance services
. We are happy to help you bring your vision to life! Call Seasonal Services Garden Center at (304) 229-2914.
Delivery is available – call for details: (304) 229-2914